Active Bathing – Experts in Dementia Care Bathing
May 22, 2015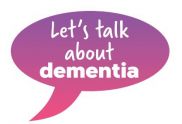 Dementia Awareness Week (18th – 23rd May 2015) is all about helping to raise awareness and an understanding of what dementia is.
In the words of Alzheimer's Society, 'life doesn't end when dementia begins' and they are helping people living with dementia to hold onto their lives and the things they love for longer and to try new experiences.
Dementia affects over 750,000 people in the UK.  Sadly there is currently no cure for dementia and the reality is that it can happen to anyone.  But what is dementia?
There are many different types of dementia which is a term used to describe a set of symptoms that happen when the brain is affected by certain diseases such as Alzheimer's or a series of strokes.  Dementia can include memory loss and difficulties with memory, speech and day to day tasks and the journey of each person living with dementia can be different.
A description which can be found in the World Health Organisation's (WHO, 2012) publication 'Dementia a Public Health Priority' described the diagnosis of dementia as 'overwhelming' for those living with dementia as well as their families and care givers.
This video by the Alzheimer's Society explains in more detail more about dementia.
As part of Dementia Awareness Week 2015, Active Bathing, part of the Astor-Bannerman (Medical) Group of companies, are officially launching a new product which significantly helps caring and bathing people living with dementia in a professional care environment.  
Already chosen by major care home groups, the Active Bathing Compact 16 and 17 Plus DC (Dementia Care bath) is the ONLY bath specifically designed for dementia care.

This height adjustable bath with integrated powered seat has additional features to ensure safe and secure operation at all times. Battery backup as standard means that in the event of mains failure, the bather can always be assisted out of the bath.
Available in bathtub sizes of 1600mm x 750mm (Compact 16 Plus DC bath) or 1700mm x 750mm (Compact 17 Plus DC bath) with GRP panels fitted to all four sides of the bath as standard, the size can be chosen to suit the bathroom setting and residents.
In addition, the Compact 16 and 17 Plus DC baths have an autofill bath water filling system.  This allows the bath to be filled to a specified level and then automatically turned off.  This incorporates a failsafe auto cut off feature system and an electronic 'lockout' system to prevent operation by residents living with dementia and other similar conditions.
This dementia care bath features a WRAS approved shower/hair wash assembly complete with TMV3 water temperature control and designed to prevent backflow of Category 5 water contaminants.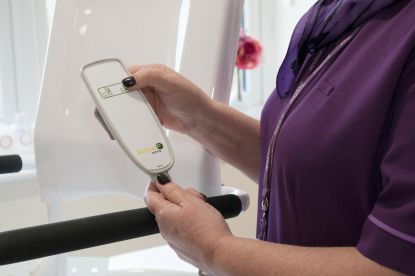 This video by Norman Mc Namara from Purple Angel dementia campaign explains how he wakes up every single day fighting dementia that colours & patterns can effect people with dementia.  In the words of Norman, 'behind everybody with dementia there is a person and within that person there is a story and it is the story of life.'
To understand more about dementia, this deeply honest and moving film by the Social Care Institute for Excellence reminds us that although the condition causes the loss of some abilities, people's feelings remain intact.  Four people with dementia here give a personal insight into an often overlooked aspect of the condition with dementia talk about their emotions: fear, guilt, embarrassment, isolation, powerlessness.
At Active Bathing, we know that People living with dementia can still be alert and aware of their condition so the right care is crucial.  As experts in assisted bathing, Active Bathing ensure that the highest level of care, support and dignity can be given at all times with our equipment and is the core of our values.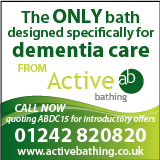 To find out more about the dementia care baths and other assisted baths and hoists which Active Bathing offer, as well as the many free services, demonstrations and ongoing support, contact us today.