Active Bathing - Providing safe and efficient bathing in Dementia and Long Term Care Environments
Established in 1993, Astor-Bannerman has built and exceptional reputation within the Social Services and Local Authority Sectors where it is held in the highest regard.  Active Bathing are proud to be a part of the Astor-Bannerman (Medical) Ltd group of companies and of our reputation.
Building on the success of Astor-Bannerman, Active Bathing is fast becoming one of the key providers of assisted bathing, showering and patient transfer systems in the Long Term Care sector today.
Active Bathing offers, possibly, one of the industry's most extensive ranges of assisted bathing products and all have been developed using the very latest in technology and design.  At Active Bathing we are proud to offer the ONLY assisted bath designed specifically for Dementia Care.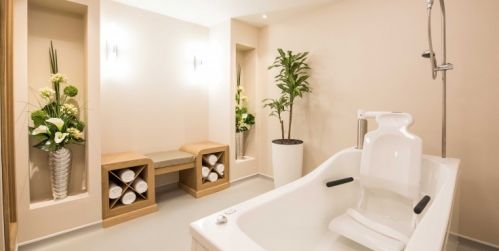 At Active Bathing, we understand that our customers do not want a supplier who 'simply sells'.  We have listened carefully to our customers' needs and, as a result, offer the very highest levels of customer service and support.  We will help guide you through your procurement process, by supporting you prior to and during your purchase, and we will continue to offer these same exacting levels of support throughout the whole of your equipment's lifetime.  We believe that our customers have their own individual needs and with this in mind, we can develop bespoke procurement packages based around your own specific needs, which we are happy to discuss with you at any time.
The range of equipment we provide at Active Bathing covers high dependency, medium dependency and low dependency level as well as catering for Bariatric requirements.  The variety of high quality care solutions we offer include;
Bathing Cushions & Supports
In addition to providing quality equipment, Active Bathing take great pride in being able to offer team meetings, site surveys, assessments, room planning and training nationwide – at no cost and without obligation.
Contact us today to see how we can help with your care and bathroom needs.