Active Bathing Literature Rack
Read some articles featuring Active Bathing case studies, interviews and more below. You can also download our full brochure using the link below and request a hard copy here.
For more information on how Active Bathing can help with your technical needs, either pre or post installation, please take a look at the services we offer here or contact us today to arrange your free site assessment with our team of specialist advisors and engineers.
Brochure
To download a pdf copy of our latest Care Home bathing equipment brochure, click the image below, or click here to request a hard copy by post.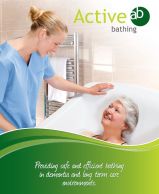 Literature Rack
Click the images below to download the press clippings. 
If you would like more information, quotation or to book a free no obligation demonstration, please call 01242 820820 or email sales@activebathing.co.uk
You can also complete our Contact Form and we will be in touch shortly.