Experts in Dementia and Long Term Care Bathing Equipment
Oct 30, 2015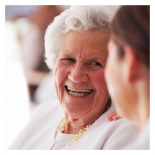 When speaking with our clients, we are often told that the number of people requiring the specialist services of a Care Home due to the progression of their Dementia is increasing day by day. Widely, our clients are now finding they are having to adapt to this change in service provision often changing the specification of their equipment within their Care Home.
Listening to our clients and responding to this change, Active Bathing, part of the Astor-Bannerman Medical Group, has designed and developed a range of assisted baths for the Long Term Care sector, with some of its models being specifically designed to meet the bathing needs of those affected by Dementia.
Active Bathing provides a safe and effective bathing solution for all abilities, ranging from ambulant to the most highly dependent baths. With models having SWL from 150kg (24 stones) to 280kg (44 stones), we offer, possibly, one of the most comprehensive range of assisted bathing models in the market place today.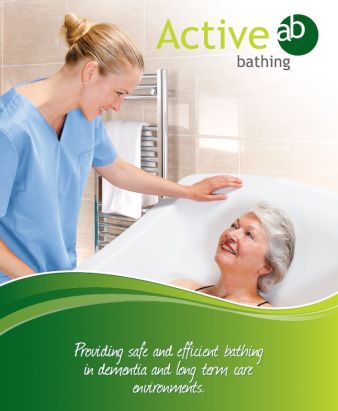 Within the Long Term Care sector, the most popular and most often specified bath from our range is the Compact DC Dementia Care bath. This is a variable height bath which incorporates a powered traversing seat as a standard. Available in two lengths – 1600mm and 1700mm – we can help to ensure that there will an assisted bathing solution for even the most economical of spaces. The design technology used within the Compact DC Dementia Care bath ensures that, even when opting for the 1600mm version, the internal tub length is adequate for the taller bather with ample leg room for someone of up to 6' (1.8m) in height.
However, the main reasons our clients choose us and specify the Compact DC Dementia Care bath, is because they recognize this model as being the ONLY assisted bath in the market place whose standard specification has been designed specifically for Dementia care.

With its standard key features and failsafe technology offering auto cut-off and auto-lock functions, the Compact DC Dementia Care bath helps to greatly reduce the risk factors associated with the assisted bathing of a Dementia patient.
The features included on the Compact DC Dementia Care bath help to 'futureproof' the assisted bathing provision with the Care Home. As the majority of Care Home residents are of the generation where bathing is a daily and recognized function, at Active Bathing, we feel that our baths offer the safe and effective bathing experience so vitally needed.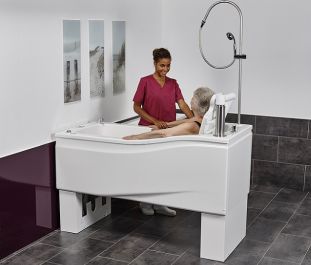 We also further support our clients by offering FREE lifetime training on all equipment we supply. Vitally, this serves to ensure that our clients' staff fully understand how to operate our baths, meaning that they can do so, when bathing residents, safely and effectively. Another key importance of thorough staff training is that it can vastly reduce any failures caused by misuse, thereby saving our clients unexpected costs and compromises in the care they offer their residents. Even more importantly than this, our clients tell us, that if not confident in the use of an assisted bath, their staff may shy away from bathing altogether!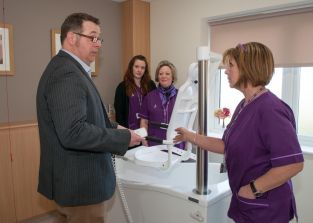 Active Bathing know that it is not 'just about selling baths' and is proud to have dedicated in-house project management, installation and maintenance teams. As a result we are able to offer any combination of procurement solution – from supply only through to fully managed, installed and maintained – whatever our customer's need.
To find out how Active Bathing can help with your care and bathing needs, contact us today.